DynDOLOD DLL is a SKSE plugin and its accompanying papyrus scripts that can be used instead of PapyrusUtil. It does not matter if PapyrusUtil is installed as well.
Downloads
Download the appropriate DynDOLOD DLL archive(s) for the game version and runtime version that is used.
In case of Skyrim or Enderal, there is only archive that contains both the DynDOLOD.DLL SKSE plugin and the papyrus scripts, since the game is not receiving updates anymore.
DynDOLOD DLL SE/VR: For Skyrim Special Edition, Skyrim Special Edition GOG, Skyrim Anniversary Edition, Skyrim Anniversary Edition GOG, Enderal SE, Skyrim VR or Enderal VR the papyrus scripts are a separate download from the DynDOLOD.DLL SKSE plugins. Always download the DynDOLOD DLL [SE/VR] - Scripts archive and one of the DynDOLOD DLL [SE/VR] - [SKSE64/SKSEVR] Plugin archives for the SKSE version and game runtime version that is used.
DynDOLOD DLL NG: Required by the large reference bugs workarounds. It replaces either PapyrusUtil and DynDOLOD DLL SE/VR. It is not a drop-in replacement and requires to generate from scratch.
The version of the runtime can be found by right clicking the executable (TESV.exe, SkyrimVR.exe, SkyrimSE.exe), Properties, Details tab and checking the entry for Product Version. In addition, the TexGen and DynDOLOD log will print log lines with version information for the runtime, SKSE, DynDOLOD DLL.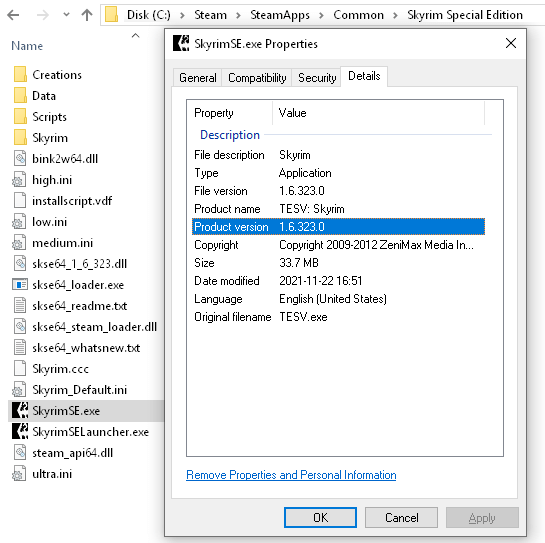 If the game is started via the SKSE loader, it will show a message in case the runtime version is not supported. The message shows the version of the runtime as well. To know which SKSE version supports which runtime version, check the skse64_whatsnew.txt included in its download archive.
Installation
Install the contents of the archive(s) as any other mod with the mod manager.
The DynDOLOD DLL papyrus scripts need to overwrite DynDOLOD Resources.
Uninstallation
Remove the mod(s) in the mod manager as usual.
Switching between DynDOLOD DLL and PapyrusUtil
Typically there should be no need to switch mid game.
It is recommended to use either setup and then to stick with it until an update is made which requires a clean save anyways.
To switch an existing save that already uses to from PapyrusUtil to DynDOLOD DLL or vice versa follow the usual clean save procedure. Simply disable/enable the existing DynDOLOD output if no new output has been generated.
Whichever papyrus scripts are overwriting last determines which DLL is being used.
Troubleshooting
In case of in-game issues or messages, check the DynDOLOD FAQ.
Test if the problem exists in a new game (coc whiterun from console in main menu for example).
Test with a new game that the problem does not exist with PapyrusUtil.
Check the papyrus log and c:\Users\[USERNAME]\Documents\My Games\[Skyrim|Skyrim Special Edition|Skyrim VR]\SKSE\DynDOLOD.log for error or clues.